In our Pro Tip Series we attempt to answer frequent questions that homeowners have.
In today's post we tackle the question: Why is the paint peeling off my doors and trim?
There could be any number of reasons for this surface condition, the most common cause tends to be water-based paint having been applied over oil based paint.  Water-based paints have a lot of great qualities, sticking well over oil based paint just isn't one of them. This can be a real challenge to repair, but it can be fixed if you take the right steps.
What are those right steps you ask? Well that's a great question and I'm glad you asked.
The first step is to check and see how well the paint is sticking. Meaning, it is not coming off easily when scratched with your fingernail. In the best case scenario the paint is still sticking fairly well.
If this is the case follow these steps:
Lightly sand the failing paint

Apply a coat of oil based primer on top of the

water based

paint.

Next 

lightly sand the primer to get a smooth surface

Finally apply two coats of quality semi-gloss enamel and you're done
If the paint scratches off easily with your fingernail, you will need to follow these steps:
First remove all loose and failing paint using a stiff p

utty

knife, paint scraper and sandpaper. 

Once this

has been accomplished sand the surfaces thoroughly

Apply a coat of oil

based

primer

 

Next lightly sand the primer to get a smooth surface

Lastly apply t

w

o

finish coats

of

quality

semi-gloss

enamel.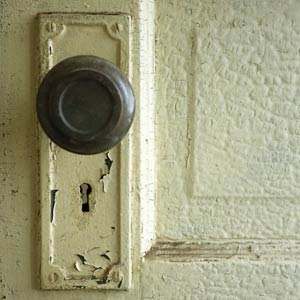 If you just hate the idea of using oil based primer, check with your local paint store and explain the situation. Depending on where you live they may have a water-based primer that will do the job for you. Good luck with your painting project!
Your friendly professionals at Maxson Painting